In the summer of 2013, a group of concerned citizens came together in an effort to address the growing need of affordable, quality child care in rural, central Virginia. This need was initially identified by the Albemarle County Department of Social Services through several community surveys and focus groups. Prior to this time, few child care options were available to the families of Scottsville and the surrounding area.  With the Town of Scottsville as the epicenter, a twenty-mile radius was set and the work group began exploring locations for a future child care center. This area is comprised of four counties—southern Albemarle, Fluvanna, Buckingham, and Nelson—and as the workgroup sought to make a child care center a reality for these communities, All God's Children Work Group was born. Our name, All God's Children, reflects our desire to provide care to all children in our community regardless of their social, racial, religious, or economic status.  Moreover, it reflects our desire to provide a holistic learning environment in order to address each child's developmental, social, physical and spiritual needs. We present every child with an opportunity to grow into a responsible member of their community.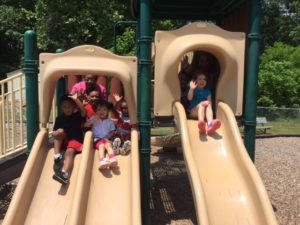 Since the creation of the work group, much work has been accomplished.  A board was assembled, a location was determined, and a 501(c)3 non-profit status was secured.  As progress was made in preparing the building for the child development center, the board was presented with an opportunity.  During the summer of 2015, the HeadStart program at Yancey Elementary School was suddenly discontinued. The board saw this as an opportunity to provide programming to 3 and 4-year-olds and proposed a partnership with Albemarle County School Board and the after school program at Yancey Elementary School, Club Yancey. After much discussion between the three partners, a plan was created and Little Learners of Tri-County was developed.  Within three months, a preschool classroom was established, a DSS license was granted, two staff were hired, and children were enrolled in what is now the Little Learners location at Yancey Elementary School.
As the Little Learners preschool thrives, the All God's Children Child Development Center is being prepared to offer care to children and is planned to be open in August 2016 based on a collaborate partnership with St Anne's Parish.  All God's Children is housed at Christ Church on Glendower Road off of the Route 20 corridor, making it accessible for commuters traveling to and from Charlottesville from Fluvanna, Buckingham, Nelson, and southern Albemarle. We are currently working with the Virginia Department of Social Services to become licensed to provide care for children 6 weeks through 5 years old.
Both of our programs are directed by highly trained and experienced staff. After careful research, The Creative Curriculum for Toddlers/Preschool was chosen to be taught in our classrooms.  The Creative Curriculum is a comprehensive, research-based curriculum that features exploration and discovery as a way of learning. Through studies, which are hands-on, project-based investigations, The Creative Curriculum helps teachers build children's confidence, creativity, critical thinking skills, and promote positive outcomes. The Creative Curriculum is not a religious-based curriculum.